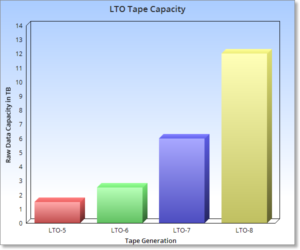 The time has come for the reveal of the newest generation of LTO tape! Recently it was announced by the LTO Program that the LTO-8 data tape is available for licensing by media manufactures. It has been two years since the LTO-7 tape premiered and the newest generation is set to double in capacity. The capabilities of the LTO-8 are sure to add value to your back up storage system as it will require less tape to provide more storage.
The max raw data capacity in the previous generation of tape is 6.0 TB but the LTO-8 offers 12 TB.  The head channel count has also doubled, going from 16 to 32. The time to write to the full tape at max compressed speed has increased as well, going from 5:50 hours to 8:45. The compressed transfer rate has gone from 750 MB/s to 1180 MB/s.
The tapes will continue to offer encryption and WORM options. A new feature of the LTO-8 is the ability to increase the cartridge capacity of an LTO-7 tape by 50%. By initializing a LTO-7 tape in an LTO-8 drive as a LTO-8 type M media, they will now be able to store up to 22.5TB of data. LTO-8 drives can read and write to LTO-7 tapes so the investment already made on those is not lost.
There are a lot of factors in deciding if now is the right time to upgrade your storage solution including budget, date of last upgrade, usage, and the capabilities of the new tape. Another consideration should be your plan for recycling your old media.  Upgrading to a newer tape generation can be costly upfront but in the long run a good investment, especially if you are using a large quantity of tape. To help fund the project of changing your drives and purchasing new tapes, consider recycling your end of life LTO's. NSA, Inc. will purchase most used tapes for recycling through our buyback program. Data destruction is included on all buybacks. The process is both NIST 800-88 and DoD compliant so there is no concern for data ending up in the wrong hands. Do not pay to have the tapes removed and recycled, receive money you can put towards your new storage needs!